Constant Plumbing Problems? You Need A Camera!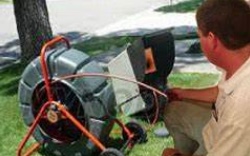 Are you having continual plumbing problems? Frequently clogged drains, flooding or sewer back-ups can be a homeowner's nightmare. Grease build-up, broken pipes and tree roots are some of the most common culprits that cause sewer problems. An improperly functioning sewer can mean the inability to flush a toilet, take a shower, wash dishes, do laundry and even basement flooding. Figuring out the underlying causes can be difficult and requires the expertise of a skilled plumber who can do an inspection using a sewer camera that can identify nearly any problem going on in your pipes. If you need Sewer Inspections in Montclair, Bloomfield, Verona, Glenn Ridge, Maplewood call Hurricane Plumbing, Heating & Drains at 973-831-4333.
For more information about our heating services, call Hurricane Plumbing, Heating, & Drains at (973) 831-4333.